 Listen!
Being in community pharmacy all these years I feel that [...]
18 Nov 2015

What can pharmacists do
What can pharmacists do to improve patient health [...]
16 Nov 2015

Antibiotic Stewardship
What Role Can Community Pharmacy Play in Antibiotic [...]
02 Nov 2015

Improving Medication Safety
10 Quick Things a Pharmacist Wants You to Know! [...]
06 May 2015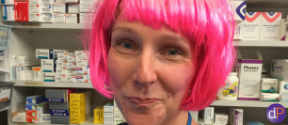 The One Week With The FrankenCh...
by Rachel Don Bosco Counter Assistant – Regent Pharmacy [...]
04 Feb 2015

Heart of the Community!
There's lots of attention on pharmacy, and their teams, [...]
15 Jan 2015 Show me the DATA!
As the year comes to an end, I begin to reflect on what [...]
18 Dec 2014

Let me know if you look after s...
As I walked into the training I immediately noticed the [...]
14 Oct 2014

My Health Check – by Alli...
Allison Sweeney Trainee Dispensing Assistant [...]
30 Sep 2014 Bush's Law #6
Bush's Law #6: If there is no evidence to suggest [...]
03 Sep 2014