Carol Smillie & Annabel Croft by Sunil Kochhar
The temperature felt hotter than usual today.
I couldn't tell if it was natural, or because of the excitement I was feeling about interviewing Carol Smillie (CS) and Annabel Croft (AC) of DiaryDoll. DiaryDoll, besides having a name that caught my eye early on, offer the perfect pants for women on their periods who stress about accidentally leaking and ruining their favourite pair of clothes! You can't imagine how thrilled I was when they agreed to do this interview. I was filled to the brim with questions about their home life, their business development, and their passion behind building DiaryDoll from scratch. I couldn't wait to begin!
[SK]: Thank you for allowing dearPHARMACIST.info to interview you both about your new innovation, DiaryDoll. So, to begin, please enlighten me on how you both became friends?
[CS]: We've known each other for probably more than 20 years. We used to bump into one another at TV events, and I liked Annabel immediately as she was what I'd call 'normal' – a rarity in the shallow world of television. She's very grounded and not always looking over your shoulder at a star studded party!
[AC]: Our kids are virtually the same age too (girl, boy, girl) and often we would bump into one another in Portugal on holiday. Each year, we'd spend more and more time together as families on holiday. It was on one of these holidays that DiaryDoll came about.
[SK]: Who had the original idea of DiaryDoll?
[CS]: Definitely Annabel's idea. We'd been chatting on the beach about being mothers of teenage daughters, and how they worried about having 'accidents' at school, during sport, or on sleepovers. On a shopping trip a couple of days later, I was putting cheap multi-pack pairs of pants in my basket, and she asked me "what do you want these for?"
"They're just period pants for the girls," I said. Two hours later we were still talking as Annabel told me how she'd left home at 15 (years old) to do the international tennis
circuit, staying often with host families, and how awful is was when she'd had to admit to marking the sheets in the morning. Her mum gave her what she described as 'a shower cap with legs' – awful scratchy plastic pants, but they did the job. Why, we wondered, is there nothing on the market nowadays, when normal sanitary protection just isn't enough?
As women, we spend fortunes on pants that make us thin for a night, or crazy gel pads in our bras, but the one thing that every woman has to deal with, and is not a choice, seemed to have been overlooked!
[SK]: How did you come up with the name for the product?
[CS]: That was my idea. Most girls write when their cycle is due in their diary, to make sure they don't get caught out. We wanted to allude to that in some way, without being too obvious (especially as not all women use diaries for periods).
DiaryDoll had a nice ring to it, but also a hidden message. We wanted a name that suggested a monthly issue, as so many women mark their cycle in their diary! That said, we hadn't even considered the hundreds of thousands of women who suffer from a sensitive bladder.
They join a gym, take up running, Zumba, golf, or dare I say, jump on a trampoline … whatever. That's when they realise their pelvic floor muscles aren't as strong as they once were! DiaryDoll seemed to have a nice ring to it.
[SK]: I have to say, after writing my blog for your website, I've had family members ask me to send them DiaryDolls. So the product is understood by women of all ages … and pretty much all the female members of my family are impressed with DiaryDoll. This must have been an easy market to enter?
[CS]: Quite the opposite. Annabel and I naively assumed our profile would be enough to generate some publicity for DiaryDoll. What we hadn't bargained for, was the fact that most newspapers are edited by middle-aged men who almost freaked at the mention of the 'p' word.
It seems they are happy to print stories about breast cancer, rape, even FGM, but not this. It is neither sexy nor news worthy. Women's plumbing, it seems, is the last taboo. We wish all men were as open minded as you Sunil!
[SK]: It seems that being celebrities you've had an advantage in marketing the product. Has the journey from launch to today been an easy ride?
[CS]: Aside from the marketing, it's been a bumpy road to get here. We began by sending a hand drawing I'd done to a factory in China. When I think about that now, we were so naïve! A few months later, a pile of boxes arrived and we were up and running!
The quality of stitching wasn't great, but the waterproofing was brilliant. After selling so well, we decided to switch manufacturing to the UK, to improve the design and be able order smaller quantities. Our first UK manufacturer went into administration, just as we were launching in John Lewis, our first major High St chain.
Annabel was in Melbourne covering the Australian Open, so couldn't do anything about it, and I didn't sleep a wink for weeks!
[AC]: Luckily we found a fantastic little factory in Scotland and together with them, we steadily grew the brand.
We're now almost 3 years from launching and available in over 500 stores. We've kept the UK manufacturer for our small independent lingerie stores, but they couldn't scale up, so we've now returned to China — this time with a very experienced lingerie brand developer for our major retailers.
[SK]: You've teamed up with pharmacies nationally in the UK to get your product out, how did this happen?
[AC]: We did an amazing photo shoot with our daughters for Woman & Home Magazine. It went in as a double page spread and the buyer from Alliance Healthcare saw it while visiting the dentist! We have never been so grateful for someone's tooth decay!
[SK]: As a pharmacist, I feel that there is a huge scope for your product; how would you like the pharmacy team to engage and promote your product?
[CS]: There's definitely an education process that needs to be explained to the customers. There's never been anything like DiaryDolls available before now, and so displaying them beside the pads, tampons and incontinence products definitely helps.
We also supplied a sample pair with a 'secret waterproof panel' sticker to each pharmacy with a cable tie, to be able to attach them to the fixture. It means that each customer can feel them for themselves. The reaction is always the same — they're amazing, and just feel like super soft pants!
[SK]: Do either of you use your community pharmacy? What in particular do you like about going to see your pharmacist?
[CS]: Yes, of course. It's always great to be able to talk to a friendly face you know, about what it is you need. I'd always go straight to my pharmacist for minor things and try to avoid visiting my GP unnecessarily.
[AC]: I am very into holistic therapies and have a local pharmacist, who is able to help and advise what's on the market to suit me.
[SK]: So, Carol, if you could invite 3 people to a DiaryDoll Tea Party to promote your product… Who would they be and why choose them?
[CS]: Ooh, good question! I'd ask …
Jessica Ennis-Hill – Sport is one of the biggest hurdles for women either during their period or because of a sensitive bladder. So many female sports involve wearing either short skirts of white clothing! (tennis, netball, hockey, ballet, riding….)
The Duchess of Cornwall – She was so fantastic, clearly displaying her post-baby tummy after each birth. Who better to 'tell it like it is' after childbirth?
Malala Yousafzai – She's young, brave, Muslim and a blogger, she'd be brilliant! Not only is she unafraid to tackle taboos, but she'd be able to highlight the cultural angle, where cleanliness is so important to Muslim women.
 [SK]: Annabel, I would love to know, as a professional sports player, if you had DiaryDoll during your career, would it have made that much of an impact on you? If so, please explain why.
[AC]: It would have literally changed my life if there had been anything like that around when I was touring the world. What most people don't realise, is that when playing professional tennis, we are only permitted 2 toilet breaks in a 3 hour match. Add to that, the fact that we are playing in a short white skirt, and you can only imagine the extra stress involved!
I'd had the idea for about 20 years, but never been able to do anything about it, until I talked to Carol. She really ran with it, and I'm thrilled to see it finally happen earlier this year.
The current UK number 1 female tennis player, Heather Watson, dropped out of the Australian Open in the first round, due to her period cramps. I was covering the match for the BBC at the time, and was asked to comment on it. My interview was downloaded the next day by over 1 million people, proving that it's a topic that's high on people's minds. So many other high profile sportswomen came forward saying the same thing, Martina Navratilova, Paula Radcliffe, and Jo Pavey all confirmed that their cycle had often affected their performance.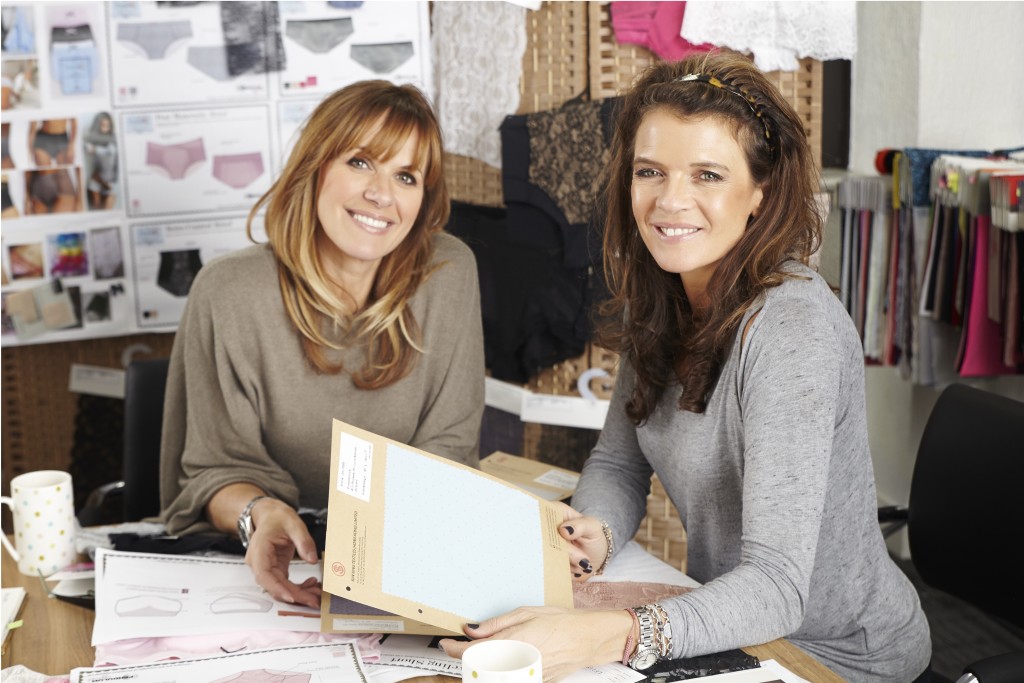 [SK]: dearPHARMACIST.info is an online access to a health care professional, without an appointment, for health & well-being related questions. Even online, people still find it difficult to discuss issues like incontinence, periods and such kind… Why do you think something so natural is still awkward in this day and age?
[CS]: I think we are all partly responsible. Our mothers talked in hushed voices to us about it, our fathers avoided the whole topic, and it was always deemed as impolite conversation in most situations. The world has moved on in so many ways, but periods and pelvic floor weakness still has an awful long way to go.
Nobody likes to think they may be 'at that age' – it conjures up images of being a spinster, surrounded by cats and smelling faintly of wee!
Far from it: most women after having children will find that jumping on a trampoline is definitely off limits!
We'd like to see DiaryDolls as an essential item in most women's underwear drawer, a bit like Spanx or a sports bra. We just need to treat the whole topic as normal and not shameful.
[SK]: How can we change this?
[AC]: By speaking out, being frank and not lowering our voices. By teaching our sons as well as our daughters, that this is what happens and it's perfectly normal.
[SK]: What's next for DiaryDoll? Have you considered 'add ons' such as matching sanitary towels, pelvic floor exercise tools… Or even a male version?
[CS]: Funnily enough, you're not the first to suggest 'DiaryDudes'!
We're happy to leave normal feminine hygiene products to the big companies who already do it so brilliantly, What we do have up our sleeves, are new shapes in the pipeline. A deeper brief, a sport version and new colours like nude, and lace — lots of lace!
[SK]: Thank you both for your time today. It's been great to listen to your story, and as a male pharmacist, I now feel confident in approaching women about DiaryDoll.
Carol and Annabel are both amazing women with an innovative product. They are busy women, always ready for the next task on their agenda, who ultimately aim to make a great impact on women's lives!
#ASKdP